Custom Printed Stadium Cups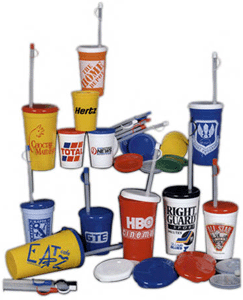 Are you looking for lids and straws for your custom printed cups? Then your at the right place. We have lids for paper cups, plastic cups, foam cups, and even stadium cups. With lids you can make your promotional cups ready for travel. Your lid choice is affected by the type of custom printed cup you choose. Lids cannot be imprinted.
Our disposable paper, plastic and foam cups have the option of disposable lids. There are different styles and sizes to choose from but they are only a 1 time use. Straws are not available for our disposable cups.
Lids for stadium cups come in a variety of styles, colors, and sizes. You can get disposable or reusable lids and whether they are cut for straws or not. Straws come with a colored plastic tip that matches lid. The straws themselves are translucent, and will whistle when blown into.
Not finding what you were looking for on this site? Looking for more than just custom imprinted promotional stadium cups, disposable cups or other promotional drinkware? This is just a sample of the thousands of promotional products we have to offer! To see our complete collection of promotional items, feel free to check out our HUGE product catalog by clicking here or give us a call and one of our friendly customer service representatives will be happy to answer any questions you may have!